We offer professional 3D printing services utilizing MJP and SLS technologies. Both these technologies find wide applications in industries, medicine, automotive, aerospace, and many other fields. Their exceptional precision allows for the creation of parts that meet the most stringent specifications. From precise components used in complex machinery to delicate models for medical research and custom elements for prototyping, these technologies have a wide range of applications.
The key advantages of professional 3D printing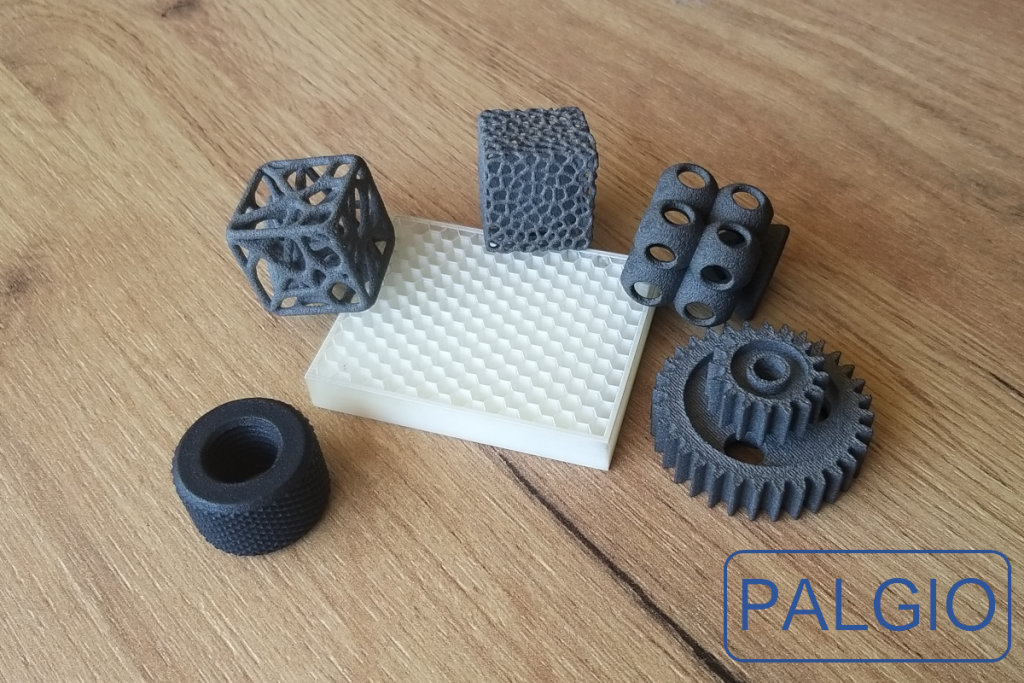 Smooth walls made with MJP technology
Surface texture similar to sandblasting in SLS
Products made from UV-cured resin and polyamide
Colors available: white, graphite, and black
3D printing resolution up to 1600 DPI
Dedicated to producing complex geometries
3D Printing MJP – Professional prototypes in HD quality
3D printing in MJP technology is one of the most precise methods for creating prototypes. In this technology, products are made from UV-cured resin. MJP allows for printing prototypes with a resolution of up to 1600 DPI (16um minimum layer thickness). 3D printing with such high accuracy results in no visible layers on the printed model. The quality of the surface obtained is comparable to the surface obtained after CNC milling.
MJP works best for producing small prototypes with complex shapes and stringent dimensional tolerances.
3D Printing SLS – Complex details created from sintered polyamide powder
SLS is another professional 3D printing technology that achieves impressive precision results. In this process, material in the form of powder is sintered layer by layer, leading to the creation of complex, three-dimensional objects. SLS technology eliminates the need for supports, meaning even the most intricate geometries can be printed without the requirement for subsequent removal of supporting elements. Professional 3D printing using SLS technology is ideal for manufacturing short runs of technical products. Products made with SLS are often used as display pieces due to their highly attractive surface finish – resembling a sandblasted texture.
Our specialization is 3D printing of complex, small-sized elements
Our specialty is professional 3D printing using MJP (MultiJet Printing) technology, which enables the creation of extremely precise 3D prints of small dimensions. Thanks to this advanced technology, we are able to quickly and effectively produce single details and large series of complex products.
A 3D printer using MJP technology can simultaneously create several or even several dozen details. Our technology allows for flexible adjustment of production to individual customer needs, while guaranteeing high quality and precision of workmanship.
It is especially worth emphasizing our ability to mass produce details with small dimensions, of the order of several/several dozen mm³. We are able to produce batches of up to a thousand elements per week, which is a significant advantage for industries requiring a large number of precise details.
The MJP method we use is one of the most accurate available on the market for producing small-sized resin products. Our technology allows for high resolution and surface smoothness, which is crucial for small-sized details.
Our products are not only precise, but also very repeatable. Thanks to this, the customer can be sure that each element manufactured in accordance with the design will meet the highest quality standards. We are ready to meet even the most demanding expectations of our customers, providing products in accordance with their unique specifications.
An example of precise 3D printing – a hearing aid prototype
The hearing aid prototype is an extremely demanding challenge that perfectly illustrates the potential of precise 3D printing using MJP technology. The complex structure of this device not only includes a significant number of microscopic components, but also requires excellent accuracy and precision of workmanship. This is where MJP technology stands out as an invaluable tool, enabling not only the efficient creation of individual elements, but also comprehensive adaptation to the precise requirements of the project.
It is worth emphasizing that the MJP technology enables not only the precise production of elements designed in a CAD program, but also the reconstruction of details after previous 3D scanning. Thanks to this, a physical object, in this case an ear, can be precisely reproduced through 3D printing. Consequently, the hearing aid prototype can be tailored to the user's unique anatomical features.