Milling services for plastics
Plastics machining services carried out on a professional CNC machine of Polish production.
One of our specialties is milling of plastic materials. We provide services on a professional CNC machine, ensuring high repeatability of the products we manufacture.
We offer milling services for the following plastic materials:
POM-C
Nylon
HIPS
PA
ABS
Teflon
PE 300, PE 500, PE 1000
The advantages of milling plastics
High repeatability of produced components
2D, 2.5D, and 3D machining
3-axis CNC machine dedicated for working with plastics
Timely service delivery
Prototypes and serial production items
Customized quote for plastic milling services
We provide quotes based on the 3D model submitted by the client. Our pricing takes into account machine working hours, the type of material for the product, and operational costs (tool wear, coolant, machine depreciation). The finalized quote is sent to the client via email for approval.
---
CNC milling of plastics: POM-C and PE 500
POM-C is a durable plastic material certified for food contact. Its characteristic features include high mechanical strength, excellent dimensional stability at various temperatures, and ease of CNC milling. POM-C is an excellent choice for applications requiring robust plastic materials
PE 500 and PE 1000 are materials well-suited for machining. The video showcases an example of creating a housing designed for encapsulation. The housing features a sealed chamber on three sides, making it ideal for encapsulating electronics with resin. The machining of PE 500 in the video is done directly to the final depth, in this case, 40mm.
Example of plastic milling
Tool magazine holder for CNC machine. The component is made using plastic milling method with PE 1000 material. PE 1000 is ideal for industrial applications.
The video demonstrates CNC milling in acrylic plastic. A set of eccentric clamps is being milled. The entire clamp is machined in a single pass to the final depth. The entire process takes less than 10 minutes of machine work. CNC milling of this material was done using a 3mm diameter end mill. The finished clamp can be used to secure the workpiece on the CNC milling machine's worktable.
---
Milling of anti-static plastic materials
The video showcases the process of machining equipment used in the production of electronic circuits. The main element featured in the video is a milled component made from an antistatic version of polyethylene, designated as PE 1000 AST. This precisely crafted component, produced using CNC milling, enables the safe transfer of electronic circuits between workstations. The project has been tailored to cost requirements and the electronic components' characteristics.
In our company, we specialize in providing milling services for plastic materials, including antistatic variants. We offer high-quality services tailored to the individual needs of our clients. Our industry experience and advanced machinery allow us to accurately and efficiently fulfill any orders related to plastic material machining.
If you are looking for professional milling services for plastic materials, including antistatic ones, Palgio is the right choice. Our highly skilled staff will ensure the highest quality, and our company always strives for complete customer satisfaction. For more information about the antistatic plastic materials we work with, please visit: milling of antistatic plastics
---
Milling of a popular plastic material – PA6G
Polyamide PA6 is a commonly used material in the industry. However, it is characterized by limited suitability for the milling process. Proper adjustment of CNC milling parameters is crucial to achieve precise dimensions and high-quality surface finish of the products. Incorrect toolpath selection can lead to excessive material melting, significantly affecting the aesthetics of the final product.
Polyamide comes in two main variants: extruded (PA6) and cast (PA6G). In the video, we demonstrate the machining process of cast polyamide PA6G in black color. We create a component measuring 190 x 90 x 40 mm, using milling cutters with diameters of 10 mm and 6 mm. The final step in the production of this plastic component involves chamfering the external edges and holes, giving the product its final appearance and functionality.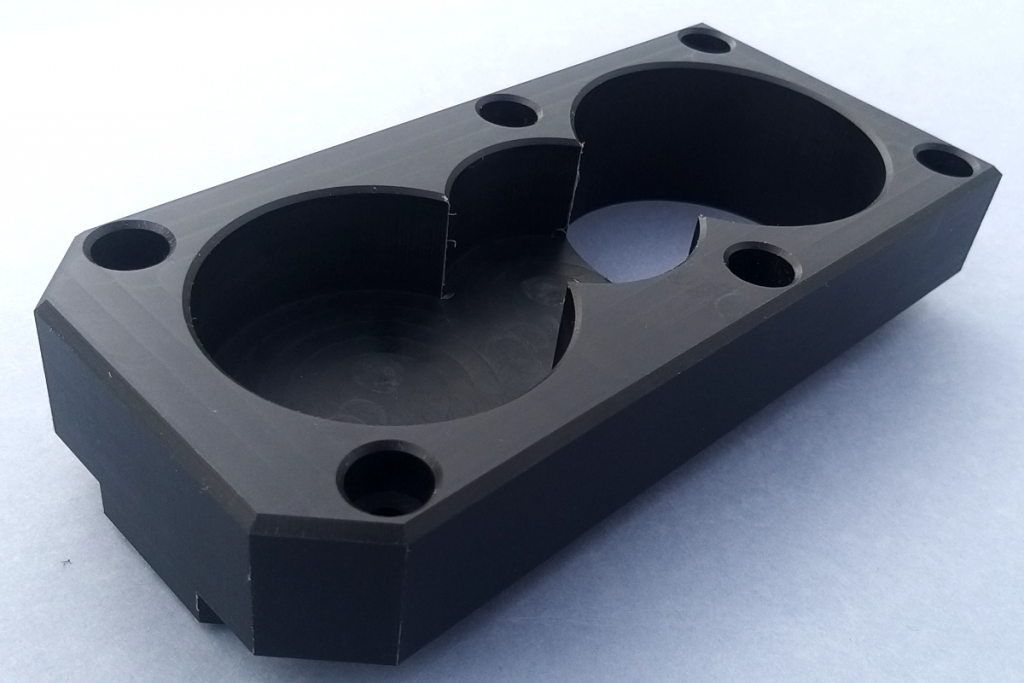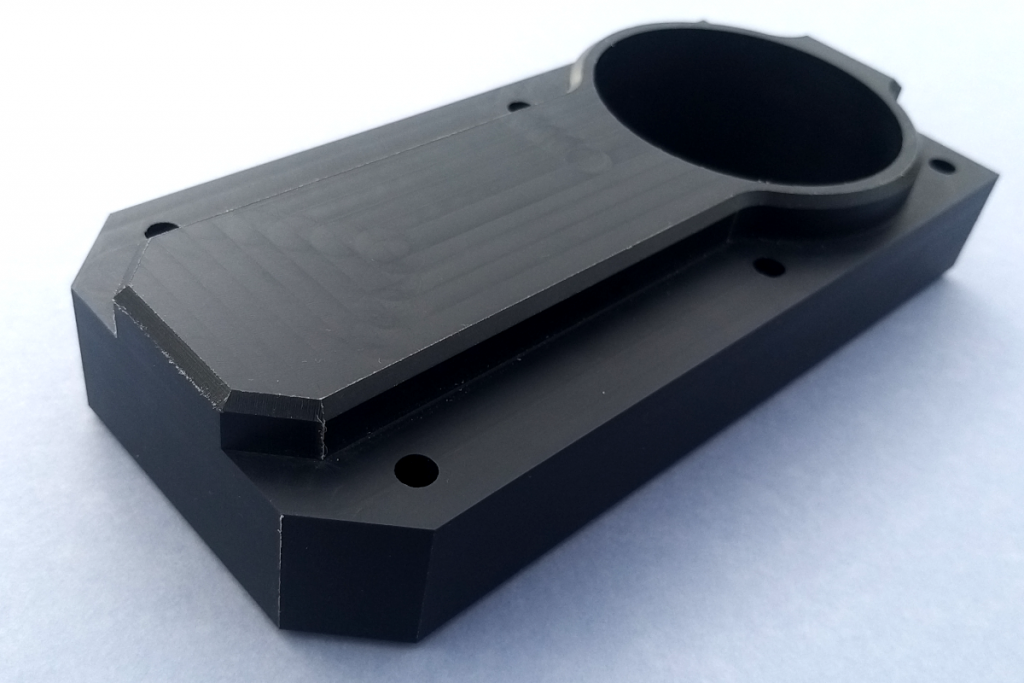 ---